My experience as an acupuncturist has proven one thing over and over!  That one thing is that the change in seasons is difficult on everyone and natural immune remedies work!  I have seen people have autoimmune conditions flair during season change that have otherwise been dormant for years.  I've seen other people that "never get sick" (yes I falsely claim to be one of those people too:) fall prey to a lingering cold for weeks.  How and why does this happen? Well, it actually makes a lot of sense in Chinese medicine (a lot of things make sense in Chinese Medicine) and I will explain that below!                                                                   
You see in Chinese medicine, different elements and weather patterns are dominant in different seasons.  For example, the wind of the fall and the rain of the spring, the cold of the winter and the heat of the summer.  All of these are natural and right, however, certain bodies are more affected by dampness, heat, cold or wind. Do you ever notice those people that hate the heat or people that have more pain with the dampness in the weather?  I personally am most affected by the wind of the fall and I hate when wind blows on the back of my neck and head! It's the worst, that's why I always cover with a scarf and hat and you should too if you find yourself getting sick in the fall frequently.  Or maybe you are one of those people that feels great in the summer, chances are your pattern and body need a little more heat or the activating 'yang' energy of the summer. We all are going to have our natural tendencies and preferences based on our own body type and the way the energy shows up for us.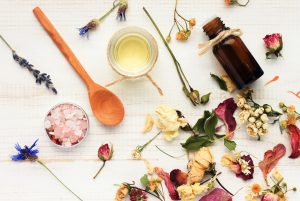 Without getting too much deeper into Chinese medicine, I would love to leave you with some of my favorite and odd tricks and tips to keep a healthy immune system during the change in season.  Enjoy and have fun with it.
1.  Drink warm water
Warm water helps to move the vital qi or energy of the body much quicker and more efficient than cold water.  I think we can all agree that heat is invigorating, so why would we dump cold ice water on our precious digestive system?  Instead, we should be warming our water or at least room temperature to help stimulate a healthy digestion and encourage an efficient immune response.  If you really can't handle warm water, then at the very least, make sure that you start your day off with a warm glass of water.
2.  Schedule unscheduled time
The shift in seasons calls for a shift in our activity level.  Different seasons call for different energy shifts. For example, the start of the spring feels more invigorating where the shift into winter is more about settling in and finishing things up.  The spring lends itself to starting new projects and new possibilities where the transition into winter is about sitting with what is and looking inward more.
Regardless of the shift occurring, when we fight the natural desire to rest or have more alone time, we tend to wear ourselves too thin.  The change of season is the ending and starting of things and should be taken with grace and ease. As a modern woman, I can still override those natural and quiet messages I get from my body and my spirit.  I do find that when I listen to those little voices that are asking for rest, for quiet and more time in nature, I have never regretted them. The longer I am here on this earth the more I am starting to realize that running myself into the ground serves no one.
How much time do you need to schedule unscheduled time?  My personal preference is a whole day or even better is the whole weekend!  Yes, I still have my kids and normal chores, but to me it's more about having a large block of time that is not filled with commitments.  My family and I try to really make all of the commitments, meet ups and plans for the week, so for the weekend, we can just go with the flow and spend our time as we please.  Having the phones turned off for part are all of this time is just icing on the cake!
3.  Use Scallions
This is one of the more goofy tips for you, but one of my absolute favorite natural immune remedies!  Scallions are also called "cong bai" in Chinese medicine and we cook and add them to soup at the first sign of getting sick.  You see, in Chinese medicine, there are different types of patterns that result in the common cold. Without consulting an acupuncturist to know which exactly you are coming down with (and we have amazing herbal teas that work great if the scallions aren't making the cut) I love just using more scallions in my cooking and dishes as a way to give a little boost to my immune system during the season change.
The funny thing is when I make this recommendation to many of my patients, they already have purchased the scallions and have them on hand.  I think in a way, many of us that follow our cravings for what our body is asking for.
4.  Use lemon essential oil daily!
Lemon essential oil is a must have during all the shifts of the seasons.  The sweet uplifting scent help to pacify anger, move the liver energy in Chinese medicine and resolve phelgm.  Resolving phlegm probably sounds like a weird concept, but it is just part of our everyday language as acupuncturists.  Albeit a little gross, we use citrus to help get rid of excess phlegm and sputum in the body.
I personally feel the best way to use it is to diffuse it in the house and rub it on the soles of my feet.  If I am feeling more stressed or more emotional, I will take it a step further and rub it over my ribs and liver area to help encourage a more 'free flow' of emotions.
One thing about using lemon to be cautious of is the effect it can have on making your skin more photosensitive.  So if you are like me and get a little carried away with applying oils to the skin, make sure that you avoid direct sun where you have applied the lemon oil.  Good luck and happy oiling!
5.  Don't eat shellfish
Don't eat a shellfish when you are getting sick!  Probably the most random acupuncture wellness advice you will ever get, but I have tested this on my own so you don't have to:) You see, in Chinese medicine, every food has a nature and energy about it.  Shellfish go deep and dig. This is not the type of energy you want to introduce when there is a pathogen present. We feel that the shellfish can strengthen the pathogen and can drive it deeper into the body due to the nature of the shellfish. I didn't believe this when I learned it in school, so I tested it annually until I finally got sick of getting sicker and now fully believe it's effects on body!  Leave a comment on this if you are able to prove me wrong on this one!