Noah Fulton, MSOM, CA
Certified Acupuncturist and Chinese Herbalist
* Noah is by appointment only at our clinic. Noah serves the Madison community via full time availability with GHC.
Noah believes in empowering patients to take ownership of their health care, and to understand how to defend the body from illness and disease with holistic methods. He is a practitioner of Chinese-style acupuncture and herbal medicine, and specializes in the treatment of:
Orthopedic injury of any kind
Pain
Male Infertility – Low Sperm Count, Erectile Dysfunction, Low Libido
Female Infertility – Endometriosis, PCOS, Advanced Maternal Age, irregular menses
IVF/IUI support
Digestive Issues – IBS, Acid Reflux, Ulcerative Colitis, Diverticulitis
Thyroid Dysfunction – Cushing's Disease, Hashimoto's Thyroiditis
Stroke Rehabilitation
Oncology treatment – Nausea, peripheral neuropathy, fatigue
Noah graduated in 2014 with a Master's of Science in Oriental Medicine from Northwestern Health Sciences University in Minneapolis, MN. While in school, Noah had the opportunity to train in multiple hospital settings including the University of Minnesota Children's Hospital (studying rare blood disorders and the treatment of oncology with Chinese medicine) and the Courage Kenny Stroke Rehabilitation Center. While living in Minneapolis, Noah completed an internship at Woodwind's Hospital, a private orthopedic surgery clinic where he learned free hand needle technique from Dr. Wei Liu, a multi-generational acupuncturist and well-known orthopedic practitioner in the Twin Cities.
After completing his studies, Noah moved to Madison and became a father to two beautiful children! Throughout this journey he experienced the extraordinary power of reproduction and parenthood. Noah strongly believes that anyone with a desire to have children should be given every opportunity to do so.  He has experience treating both male/female infertility and working cooperatively with western health providers to achieve successful outcomes.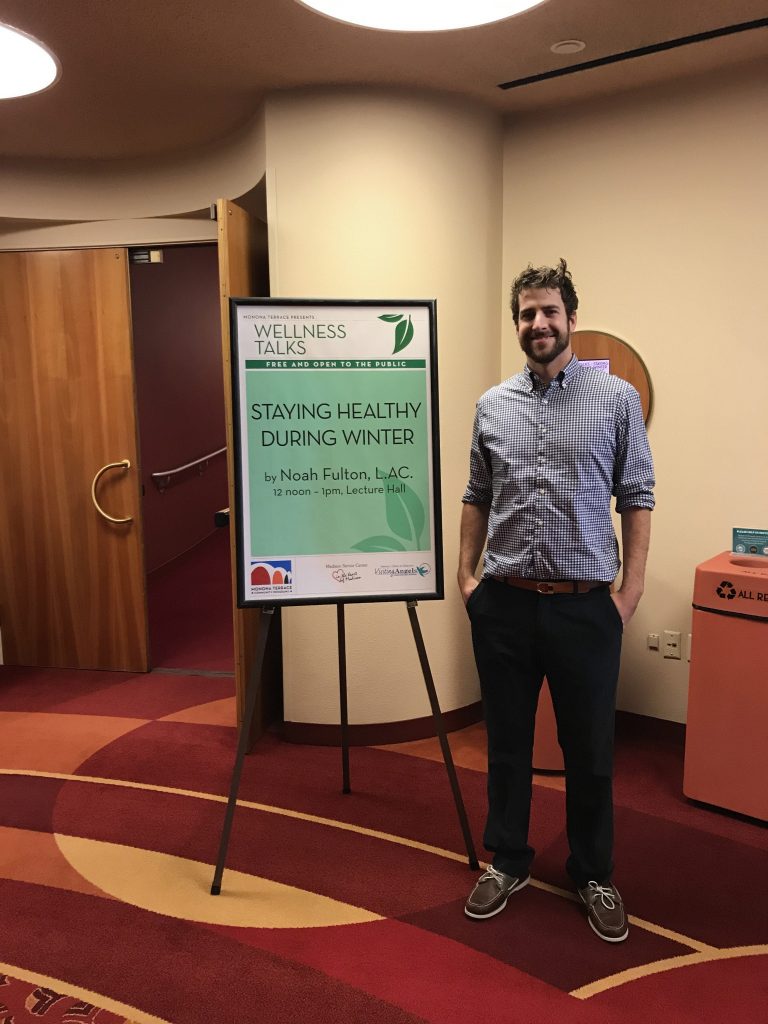 Pictured above is Noah presenting a Wellness Talk at the Monona Terrace this past winter. Noah is passionate about sharing the abundance of wisdom hidden within Chinese medicine. He sees patients at both Group Health Cooperative and Isthmus Wellness.