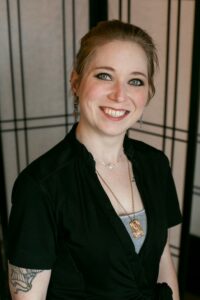 Alisha Burkhalter, LMT
License Bodyworker and Massage Therapist
Alisha's long time belief in natural healing lead her to the study and practice of massage therapy. In 2012 she graduated with honors from the massage therapy department of Globe University and has been faithfully practicing massage therapy for over 10 years!  Alisha has a passion for treating patients with chronic tension and pain. Whether the chronic tension and pain is due to an old injury or a surgery, athletics, or general tension from everyday life, Alisha is eager to help provide the needed care and relief. In each session she focuses squarely on the cause of the pain and tension and uses her experience to customize each massage to the individual. She also helps educate her clients on self care to ensure that the benefits of the treatment last even longer.
Alisha Burkhalter has advanced training and specializes in:
Deep Tissue
Therapeutic Hot Stone
Trigger Point
Swedish
Sports
Prenatal and pediatric
Alisha's major focus of treatments are:
The muscles at the base of the skull and the neck which are commonly the cause of headaches, tension headaches, migraines, jaw discomfort among other discomforts.
Rotator cuff – The group of muscles known as the rotator cuff are a common contributor to muscle tension in the shoulders. A sore or injured rotator cuff can restrict arm movements when tight and cause severe problems such as "frozen shoulder."
Gluteal and piriformis muscles – Often a contributor to low back tension, the gluteal and piriformis muscles and can also be a factor in sciatic pain.
Iliopsoas – Otherwise known as "hip flexors, iliopsoas, for various reasons, are often tight and shortened. This muscle group can contribute to low back tension.
Pectorals – Issues with the pectoral muscles are a common contributor to shoulder and neck tension.
More from Alisha here on Vitamin D and muscle tension!
Click here to read Alisha's testimonials.