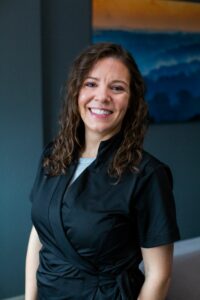 Brittany Schmidt-Hess, LMBT
Licensed Bodywork & Massage Therapist
Brittany's passion for helping people on their healing journey led her to a career in therapeutic massage. She brings positive energy into each session, addressing the client as a whole and promoting mind-body connection as well as effectively relieving areas of tension. Brittany educates clients on self-care exercises and stretches to help enhance their treatment. With her intuitive touch and blend of techniques, she creates a session to meet each client's individual needs.
Brittany's approach to bodywork is effective in treating:
Stress, headaches, and migraines
Neck and shoulder pain
Low back and hip pain
Chronic pain and fibromyalgia
TMJ
Brittany has advanced training and specializes in:
Deep tissue
Trigger point therapy
Myofascial release
Relaxation massage
Passive stretching
Swedish massage
Prenatal
Brittany graduated from the therapeutic massage program at Madison College and obtained her Massage and Bodywork Therapist License in 2022.