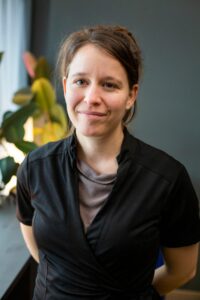 Jeanne Kowle, LMT
Licensed Massage and Body-Work Therapist
Jeanne has always been drawn to ancient healing practices and natural approaches to healing and life. Yoga was a gateway as a teenager, then she went on to learn to identify wild plants and their medicinal uses. From there, she graduated from a bushcraft course in Maine, learning how to eat and survive in the wild. By learning the power of massage therapy, she took a bigger leap of faith into the solutions nature and holistic wellness provides us, shying away from much of the fast pace and technology centered society we find ourselves in. She has found many personal health answers and these experiences have led her to pursue Massage Therapy in order to be of service to others.
Jeanne has over six years of experience as a Massage Therapist. She has worked in a variety of settings, and developed skills to offer a therapeutic approach to improving pain, range of motion, carpal tunnel syndrome, frozen shoulder, sports injuries, sciatica, headaches, scar tissue, anxiety, depression, stress and more! Jeanne also has experience in offering relaxation focused services.
Jeanne has advanced training and specializes in:
Myofascial release
Swedish massage
Neuromuscular therapy
Hot stone massage
Prenatal massage
Geriatric massage
Deep tissue work
Energetic work
Acupressure
Jeanne completed her training in Massage Therapy at Healthworks Institute, located in Bozeman Montana in March of 2013.