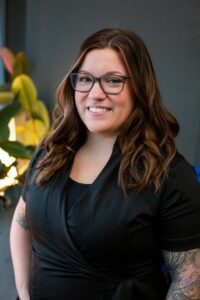 Micala Meigs, LMT
Licensed Massage Therapist
Micala's passion for helping people led her to her career in Massage Therapy. Her knowledge and more than 11 years of experience allows her to tailor each massage session for an individual experience.
Micala's intention for each session is to identify the cause of pain and tension in the body, and provide as much relief as possible. She also works with her clients to create a treatment plan – including self care education – to ensure the benefits of the session last longer.
Whether you're wanting a relaxing escape, or your goal is to work on unwinding an old injury, you can expect your session to be individualized to meet your needs.
Micala specializes in:
Swedish/Relaxation Massage
Therapeutic Deep Tissue
Therapeutic Hot Stone
Trigger Point Therapy
Trauma and Injuries
Chronic Headaches/Migraines
Chronic Shoulder, Neck, and Back Pain
Hip Pain and Sciatica
Plantar fasciitis
Micala obtained her Massage and Bodywork License in 2012.